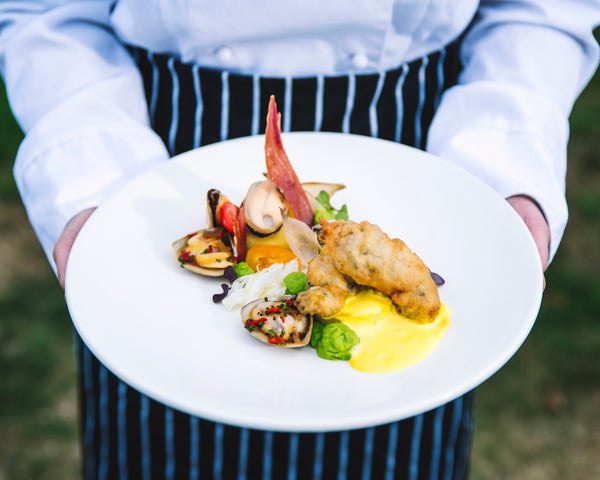 Supporting Local Businesses
Here at the Saint Clair Vineyard Kitchen we aim to provide you with the very best experience by offering world-class wines for you to enjoy. We make every effort to provide fresh seasonal produce sourced locally, if and where possible
- David Haase, Head Chef
We are proud to incorporate and supply products from local Marlborough producers.
Some of the companies we support are: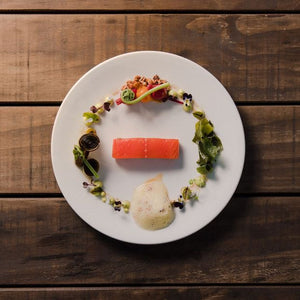 Marlborough Regal King Salmon
Raised in the crystal-clear waters of New Zealand's Marlborough Sounds. Regal King Salmon has an incredible flavour, colour and texture and healthy Omega 3s which have important heart health benefits and may be beneficial for the joints – great news for adults.
So, when you experience Regal King Salmon you can be sure you're enjoying some of the best salmon in the world. At the Saint Clair Vineyard Kitchen, we smoke the salmon ourselves utilising wood chips from our own French oak wine barrels.
Positioned at the top of New Zealand's South Island, the sounds have hundreds of sheltered, deep water bays and the swift currents of the Cook Strait continually filter and feed the area's wildlife. The site selected for the Regal King Salmon farms have been carefully chosen to ensure that every harvest produces a consistent level of excellence.
High oil content means the salmon has wonderful rich flavour. The deep orange colour makes for exceptional plate presentation and the colour is retained even after cooking.
---
On the Vineyard Kitchen Menu:
Pink Peppercorn Marlborough Salmon Pastrami
Celebration of Marlborough Platter with all produce sourced locally.
Our Wine Match Recommendation:
Origin Pinot Gris Rosé 2019
Marlborough Green Lip Mussels
Famous New Zealand mussels sourced from our backyard (the clean coastal waters of the Marlborough Sounds). These mussels are carefully harvested to maintain sustainable and vigorous mussel colonies. Green-lipped Mussels are predominantly green and can grow to a maximum size of over 240 mm in length.
Maturity is thought to be reached at 27 mm.They are broadcast spawners, and spawning takes place in late spring-autumn. Green-lipped mussels are found to depths of 50 metres. Havelock is a coastal village in the Marlborough region of New Zealand.
It sits at the head of Pelorus Sound, one of the Marlborough Sounds, and at the mouth of the Pelorus and Kaituna Rivers. Havelock is the center for much of the New Zealand green-lipped mussel industry and is called the green shell mussel capital of the world.
It is also the base of a mail boat servicing the remote communities in the Marlborough Sounds, as well as many fishing and recreational boats.
---
On the Vineyard Kitchen Menu:
Seafood Linguini
Celebration of Marlborough Platter, with all produce sourced locally.
Our Wine Match Recommendation:
Origin Sauvignon Blanc 2020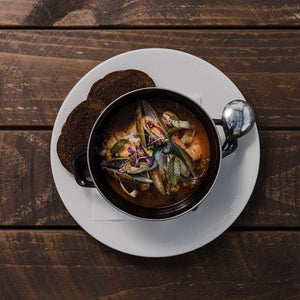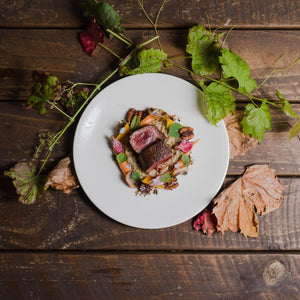 Pure South Meats
A new culture of crafted meat. Driven by passion, dedication, and the search for an all- embracing quality. Handpicked represents a new culture of crafted meat, from farm to table.
FARMED WITH PASSION We hand pick a selection of dedicated farmers who put the utmost care into raising Pure South Handpicked Beef and Lamb.Their rigorous standard of environmental care, combined with low-stress farming methods, produce exceptional quality red meat. All Handpicked Beef and Lamb is free farmed and grass fed— never feedlot, grain or corn fed.
RIGOROUS STANDARDS Our master graders grade the meat against key factors such as marbling, colour and pH level, to select only the best of the best.With this system we deliver consistently excellent tenderness, succulence and flavour profile.
ENHANCED WITH AGEING Our craft butchers will then age each cut for 10–55 days to develop and lock in the full flavour and tenderness.Through expert ageing and butchering, we enhancing the taste and ease of cooking for a perfect meal every time.
---
On the Vineyard Kitchen Menu:
"Silere" Merino Lamb Loin
Premium Game Meats
Premium Game became a licensed supplier of processed wild game including venison, goat, pork rabbit, fallow, hare, tahr, wallaby and Arapawa sheep in 1996. Four Marlborough recreational hunters wanted the people of New Zealand to enjoy the many benefits and unique flavours of naturally wild game meats like them and their families could.
The major priorities have always been producing outstanding quality products, selling and promoting a unique New Zealand product and maximizing the potential of this fast-growing niche market. Premium Game has come a long way since the 'Old Boys' first chin-wag way back then – and they continue to expand to this day...
Premium Game has come a long way since the 'Old Boys' first chin-wag way back then – and they continue to expand to this day...
---
On the Vineyard Kitchen Menu:
Celebration of Marlborough Platter, with all produce sourced locally.
Our Wine Match Recommendation:
Pioneer Block Cabernet Merlot 2018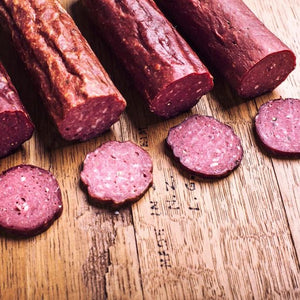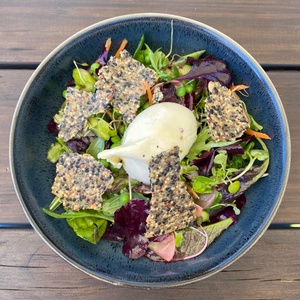 Viavio Cheese - Nelson
With a vision to produce high quality Italian style cheese in Nelson, by combining the know-how of a cheese master from Italy with the most natural ingredients from New Zealand. ViaVio was born... "We, Flavio and Flavia, are both from Rome. After many visits to NZ, we were looking for a new life However, what to do in this new life? After intensive market research in NZ on milk and farmers, using consultancy support from cheese experts, we found in Nelson a little Italian cheese venture, with this came the opportunity to collaborate with Oaklands Farm in Nelson."
This local source would provide a supply of fully traceable, quality milk from A2-tested cows. Italian Cheese Master was brought from Italy and the adventure started! Last but not least, to be an Italian style cheese producer we needed an Italian sounding brand name which encapsulated our short story and would help build a brilliant future: ViaVio comes from the last part of our names, Flavia and Flavio, and conjures the image of historic traditional artisanal Italian brands proudly alongside the New Zealand.
---
On the Vineyard Kitchen Menu:
South Island Artisan Cheese Board
Celebration of Marlborough Platter, with all produce sourced locally
Cranky Goat Cheese - Marlborough
Simon and Hellene are the owners of Local Business Cranky Goat Ltd. They use high quality goat milk that is sourced from a neighboring farm in Marlborough Sounds. Then using ingredients that are sourced from Marlborough they produce a high-quality goat's cheese with minimal processing.
Focusing on producing hand crafted fresh cheeses that are made using traditional methods and recipes.
All their cheeses are 100% vegetarian.The flavour and aroma of goat cheese relies upon its moisture, density, aging and flavouring.All their cheeses have a high moisture content to enable a balance of taste and smell for the wider New Zealand palate. Milk production of goats is seasonal from mid- September through April.
---
On the Vineyard Kitchen Menu:
Celebration of Marlborough Platter, with all produce sourced locally.
South Island Artisan Cheese Board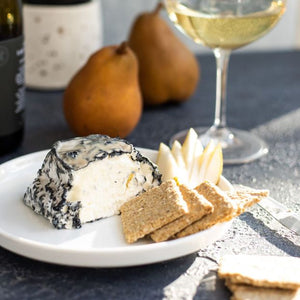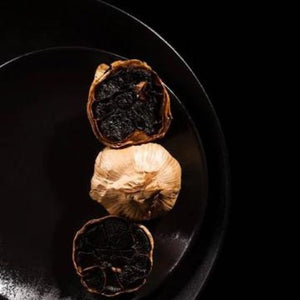 Murphy's Garlic New Zealand
Garlic has been grown commercially in Marlborough for over 40 years. As various cultures and cooking styles arrived in New Zealand, garlic consumption has increased steadily. Pat and Gaye started growing garlic along with other vegetables in the early 80s and persevered through tough times with garlic building the largest garlic growing operation in Australasia.
Their goal is to sustainably grow the best garlic in the world and supply this product to New Zealanders wanting high quality, safe and traceable garlic and garlic products. Over the last 2 years Pat and Gaye have developed other products to increase their garlic offer to more New Zealanders and the international market.They now offer a New Zealand grown and produced crushed garlic option and the more obscure superfood 'Black Garlic'.
Black Garlic is made only from their own, home grown garlic, with no additives. It is cooked over a period to produce, not only a source of health benefits but an incredible tasting product to be used as a condiment and an exquisite food ingredient. an exquisite food ingredient.The Black Garlic displays a perfect mix of molasses-like richness and tangy garlic undertones, it has a tender, almost jelly-like texture with a melt-in-your- mouth consistency like a soft dried fruit. Several of the products produced would not be recognized by our grandparents today.
---
On the Vineyard Kitchen Menu:
Celebration of Marlborough Platter, with all produce sourced locally.
Burleigh Memorial Olive Grove
HISTORY | Extra Virgin Olive Oil blended from the olive trees at the Burleigh Memorial Olive Grove, Blenheim. The 1300 tree olive grove was planted by RSA volunteers in 1995 to commemorate the 50th anniversary of VJ day. Many returned soldiers who fought in World War II in Greece, Crete, North Africa and Italy sheltered from the enemy and enemy planes in olive groves.The first 100 trees planted are identified with individual plaques dedicated to lost soldiers.
MONTHLY WORKING BEES | Monthly working bees are carried out every third Saturday of the month from 0900 to 1200. All sorts of tasks from mowing, pruning, checking water lines for leaks, weeding the vege garden, loading firewood to take to needy people, cooking the BBQ, making the tea and coffee or just chatting away. Do as much or as little as you wish. It really is about the company actually we think.
More information is available from Clubs of Marlborough reception 03 5785230 or email mrsa@clubsofmarlborough.co.nz
---
On the Vineyard Kitchen Menu:
Celebration of Marlborough Platter, with all produce sourced locally.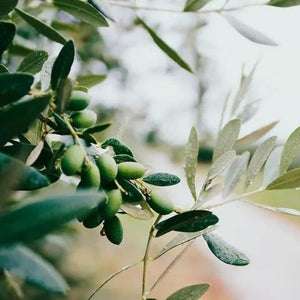 Marlborough Cloudy Bay Clams
Cloudy Bay Clams is the pioneer in the industry of harvesting surf clams along the coast of New Zealand. Surf clams are a native shellfish to New Zealand's pristine coastal waters.They exist in the turbulent surf zone, rich in food, up to 10 metres under the sea bed.This environment ensures the shellfish develop an outstanding quality and taste profile.
The clams' boutique flavours are versatile and highly valued within the hospitality industry. Cloudy Bay has successfully undergone both their fishery and chain of custody audits and now carry 'Friend of the Sea', an international sustainability seal of approval, for our surf clams. Friend of the Sea certification confirms our efforts and continuous commitment to sustainability and it represents an important added value for us and our product. Our shellfish are exported blanched (both chilled and frozen) and live, still within their shells to maximise their flavour and freshness.
Our harvesting techniques have developed, due to our extensive research on the process, to ensure Cloudy Bay surf clams reach the market in perfect condition. Cloudy Bay's top quality New Zealand surf clams provide a unique dining experience that is valued worldwide.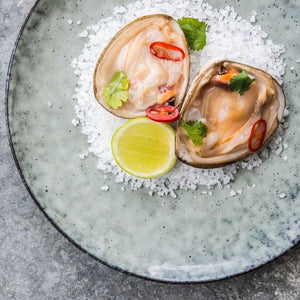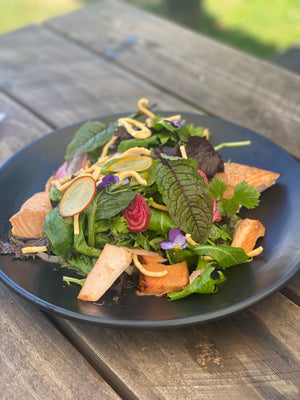 Thymebank
The Roberts family have owned and operated Thymebank since 2013. Our products are proudly grown in a hydroponic spray-free environment, which means we use plant based or friendly solutions to produce premium products for you.
All products you purchase direct from us have little or no packaging. If packaging is required, we use plant-based and home compostable or reusable packaging. Care instructions on how to get the most out of your beautiful salads and herbs are included!
On the Vineyard Kitchen Menu:
Nearly all items on the Vineyard Kitchen menu incorporate fresh product from Thymebank.
Antipodes Sparkling Water
The meaning of the word antipodes is at the very heart of our water – it is quite literally poles apart.To us it represents both a place of origin and an attitude to everything we stand for.
OUR NATURAL HOME Far beneath the earth's surface at a depth of 327m is the natural home of Antipodes; an artesian aquifer composed of silica rich ignimbrite rock. Assessed as New Zealand's deepest high quality water source, it exists under such immense geological pressure that the water flows naturally all the way to the surface. Its measured age at bottling is between 50 to 300 years.
Antipodes water is exceptionally pure and needs only a simple microfiltration before bottling. No sterilisation, no additives, no industrial cleansing and processing. Our bottling line is state of the art and our quality testing rigorous - their sole purpose is to ensure the water in our bottles is unaltered from the purity of its origins.We bottle only Antipodes at our source – nothing more and nothing less.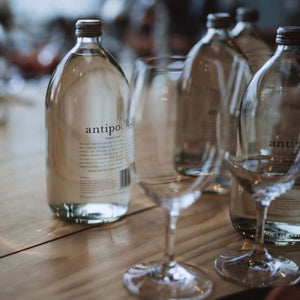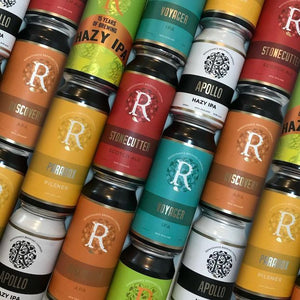 Marlborough Renaissance Beer
Award winning New Zealand craft beer producer, Renaissance Brewing, is situated in the heart of Marlborough wine country at the top of New Zealand's south island. Our aim is to make beers that rival our grape based cousins.We produce top end, ultra premium ales that enlighten the palate and thrill the senses.
We are committed to using local ingredients and are one of the pioneers of craft brewing in New Zealand. Our beers nicely showcase New Zealand hops and malt in a range of British, American and European styles. Renaissance brewing was established in 2005 when experienced brewers Andy Deuchars and Brian Thiel purchased the lease on the historic Grove Mill in Blenheim.
Andy and Brian, both natives of Southern California, had one goal in mind - to produce stunning beers in a region more renowned for the excellence of its wines. Spurred on by the winemakers mantra that it takes a lot of beer to make a great wine, as well as the amount of distinguished palates within the region, they set about their task with aplomb.
Zeffer Cider Company
Our cider making journey began in 2008 with Sam and Hannah throwing in their day jobs with the (some said crazy) idea to craft real New Zealand cider from freshly crushed apples in a small shed in Matakana.
The first ever batch of Zeffer was sold at their local Farmers' Market to rave reviews. It was so popular they began stocking a few local stores and soon the word spread far and wide about just how good their cider was. And so, the team grew a bit bigger, tanks grew a bit bigger and eventually we moved Zeffer to Hawke's Bay – the home of sunshine and apples! We're proud of our small team and the calibre of cider we're producing – real, all-natural cider crafted by a few friends from the best ingredients.
We've experimented with flavours, won awards (including the World's Best Cider in 2017) and shown the world just how good New Zealand cider can be. Zeffer is now pouring in all corners of the globe and every drop begins its journey at our cidery.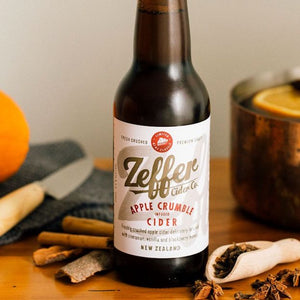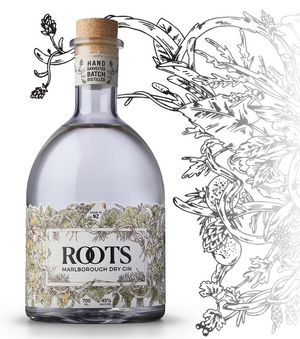 Roots Marlborough Dry Gin
Produced in the heart of New Zealand's internationally recognised wine region, Elemental Distillers is a Marlborough based craft distillery, founded by Ben Leggett and Simon Kelly. Bringing decades of combined international drinks experience, Ben and Simon believe in delivering premium craft spirits and liqueurs with complete transparency of all ingredients, processes and production, from root - to cup.
OUR DISTILLERY Constructed from three upcycled shipping containers, our unique distillery is designed to house the entire production process while promoting sustainability through water recirculation systems and gravity fed piping. The still room houses an boutique 200L copper pot still built to order for our own requirements and small-batch practices.
FULLY TRACEABLE BOTANICALS All of our ingredients are direct sourced through either wild foraged, organically farmed or Kiwi family owned businesses. Offering a complete traceability of all ingredients and processes, from root to cup.
DISTILLED IN SMALL BATCHES Each run is batch distilled in our small 200L copper pot still named 'Fanni Chanel'. A truly boutique operation where every process and principle is controlled by batch and by our own hands.
Marlborough Ritual Coffee
From the simple little passions, bigger things grow Ritual Coffee was founded in 2009 by the young entrepreneur Matthew Hellriegel with a small roaster based at his home in the beautiful Marlborough Sounds, and so it began. A few years on and Ritual Café was created. Dave & Del Lowther took over the reins of the Café and Roastery in 2015 and have continued to forge ahead.
Dave is at the forefront of the roasting continuing to produce the Fair Trade organic Ritual Blend as the love of the Ritual product has brought them to the current position: a growing business with an amazing team of baristas focused on service and creating the best coffee, together with sending Ritual Coffee all around New Zealand.
All beans are Arabica beans, a skilfully roasted blend of Peruvian, Guatemalan and Ethiopian beans, sourced and supplied through Trade Aid Coffee Importers, Christchurch. Our coffee blend has resulted in a medium-bodied roast which has base notes of leather and spice and aromas of bright berry fruits and plums, the rounded acidity offers great balance and the body is good and creamy which results in a lively and satisfying coffee.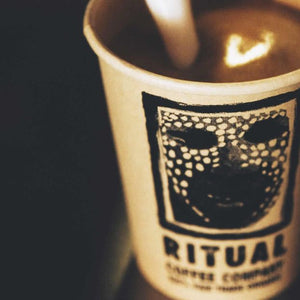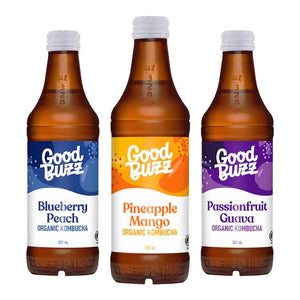 Good Buzz Kombucha
Good Buzz was founded in 2014 by Alex and Amber Campbell and their 3 children Kaylie, Lauren, and Nathan.
1974 It all started with Alex's grandmother, Amy, started making what she called 'Manchurian Tea' in Kaikohe, NZ.
JULY 2014 After months of experimentation,Amber and Alex thought it was time to leave the software world behind and start Good Buzz, setting up a factory in Wainuiomata.
DECEMBER 2014 - MARCH 2015 Excited to introduce Wellingtonians to our amazing brew we did the farmers' market circuit doing up to 4 markets in a weekend.
26 OCTOBER 2017 Lion - Beer, Spirits & Wine NZ comes to Good Buzz looking for a kombucha to add to their portfolio and becomes a 25% shareholder.
TODAY Good Buzz has become extremely popular around New Zealand and can be found in great cafes, health food shops, supermarkets, gyms, even some bars! We strive to make consistently great tasting kombucha without any shortcuts and for an affordable price. We promise to keep it real - that's the Kiwi way!
Foxton Fizz
Back when most small towns made their own local soda, our little factory started up its machines in 1918, bringing our fizz to Foxton.
For an entire century we've stayed in our hometown Foxton, operating from our factory on 8 Whyte Street. What started as a local drink soon became a familiar offering in lunch bars and hotels, and a staple at family gatherings and celebrations.We've always been there, delivering our fizz around New Zealand in our now iconic wooden crates.
Starting as a family business, Foxton Fizz passed through a number of hands in the Perreau family. Over the years since, the international soda drink manufacturers, with their slick marketing and cut price methods, dominated to such a degree that almost every local bottler and their uniquely kiwi brands are now only memories.
So when Murray Perreau decided that he needed to call it a day, and the doors could be been shut forever a near tragedy took place. Luckily a group of friends from Wellington got together and bought Foxton Fizz, ensuring this iconic brand could survive.
With consumers showing a renewed interest in unique brands, Foxton Fizz continues to gain in popularity and can be found in great cafes and New Worlds all over New Zealand.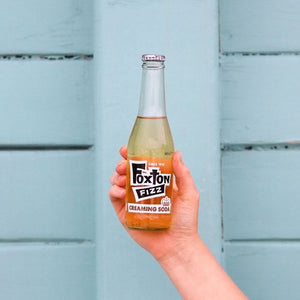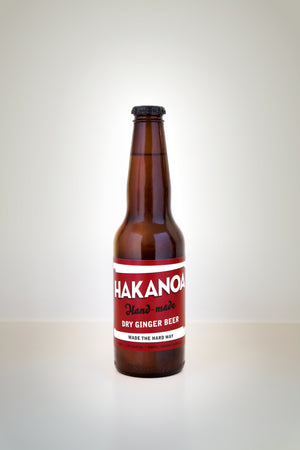 Hakanoa Ginger Beer
The company was originally set up because it was felt there were no soft drinks truly suitable for adult palates, something more interesting than water, good with food, not too sweet.
Although company owner Rebekah had no previous food production experience, she had always been an avid food and drink enthusiast admiring the slow food movement and the return to traditional methods. She baked sourdough bread at home for over 10 years and has always been fascinated by the fermentation process and the flavours it produces.
Essentially her love of sourdough is what gave birth to the idea of producing ginger beers fermented with a wild culture on a commercial scale. The culture used has a high count of lactobacilli and produces flavours and quenchiness that cannot be matched by mere carbonated soft drinks.
It's taken a lot of research and development to achieve consistent results from their brews.The results are great and worth the long search.
Phoenix Organics
Phoenix was one of the first organic drink companies in New Zealand when we kicked off in 1986. Founded in the garage of a few friends - Phoenix beverages first appeared in the form of an organic, brewed Ginger Beer.
Since then we have expanded into tonnes of different types of drinks from Organic Juice to Infused Sparkling Water, to Chai Syrup for your coffee. Given it's now 2020, it's fair to say that Phoenix has been a part of the lives of Kiwi generations for 34+ years!
It's been one hell of a ride with some real highlights such as throwing Phoenix festivals in Kingsland, getting amongst all the colours of Splore festival and the swag of NZ Fashion Week. Plus, cleaning up rubbish off Rangitoto island and supporting friends on their missions to conquer the world; such as pro surfer Ricardo Christie.
Our most proud partnership however is undoubtedly with Sustainable Coastlines – a charity who roll up their sleeves to protect our beaches and waterways. We are a brand that cares about Kiwi's and our natural environment.