A wide choice in Marlborough Vineyard sites, including the Wairau, Awatere and Ure Valleys as well as a vineyard in the Gimblett Gravels wine growing district in Hawke's Bay, allows Saint Clair to specialise its plantings by grape variety in the sub-regions that provide the most suitable terroir for each.
In 2001 Saint Clair introduced a 'grading system' for all its vineyards different wine batches and marks them out of 10 for quality each year. This provides valuable information with records now over a period of time showing which vineyards provide the best fruit and which varieties produce the best quality in each of the vineyards. The grading system is also used extensively as a management tool for identifying and improving best vineyard practices, and for payments to growers.
Other factors contributing to wine quality include a sustainable approach with minimal use of vineyard sprays, open canopy with good light and airflow, leaf plucking, fruit and shoot thinning and selection with no cultivation. After harvest the fruit is moved rapidly from vine, to press, to tank and barrel, to preserve fruit quality and character.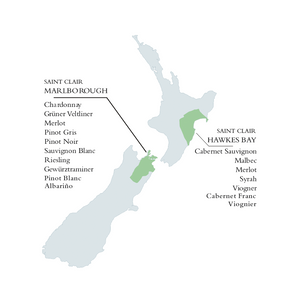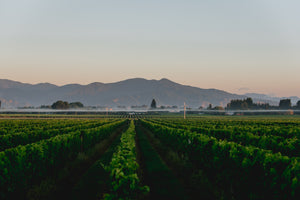 Doctor's Creek Vineyard
New Renwick Road, Marlborough
At Doctor's Creek Vineyard, Saint Clair's key varieties are Sauvignon Blanc, Riesling and Pinot Noir. Successfully experimentation has been carried out with top grafting Pinot Noir (using Dijon clones) in adjoining properties, where more clay under the sub-soil is providing some intense and interesting flavours.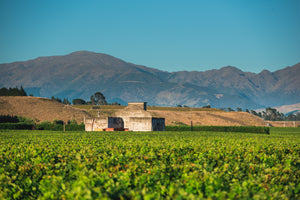 Awatere Valley Vineyard
Awatere, Marlborough
The Awatere Valley, with its silt loam over deep sandstone, provides more mineral flavours in the wines. Here Sauvignon Blanc and Chardonnay predominate, although some of the Sauvignon Blanc has been re-planted with Pinot Gris, to learn more about the variety in this vineyard.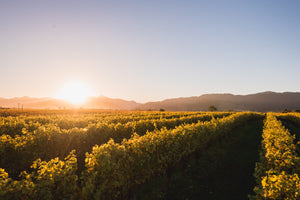 Rapaura Vineyard
Rapaura Road, Marlborough
Rapaura's free draining alluvial soils, with a narrow band of top soil above stones, have been mulched in parts and irrigated according to soil type, to create an evenness across the vineyard to provide consistency of flavours. Merlot has proved to be very successful at this site, producing a number of trophies and gold medals.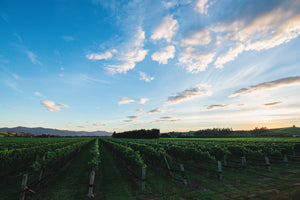 Omaka Vineyard
Falveys Road, Marlborough
Saint Clair's Omaka Vineyard, where the climate is slightly warmer by day, but cooler by night, and where the soil is more compacted and contains more clay, has proved very successful for Mendoza Chardonnay and Pinot Noir.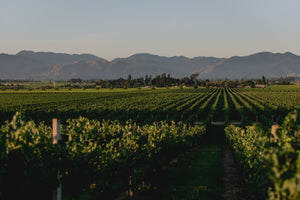 Ben Morven Vineyard
Ben Morven Road, Marlborough
Located on Ben Morven Road, within the Southern Valleys region of Marlborough. The vineyard lies on a gradual north facing slope and contains soils that are clay based with a small amount of light coloured gravel. Warm days and cooler nights (than some other parts of Marlborough) combined with the vigour-moderating soils all contribute to small berries which gives the Pinot Noir power, concentration, intensity and a deep rich colour.
Vineyard Kitchen Block
Rapaura Road, Marlborough
Saint Clair Dawn Méthode Traditionnelle is sourced from this vineyard which is on Rapaura Road, overlooked by the Saint Clair Vineyard Kitchen. The vineyard consists of well-drained stone and sand alluvium and is made up of clone 95 Chardonnay and Clone 5 Pinot Noir grown on spur pruned and sylvos trained vines.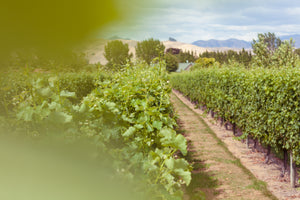 Strip Block Vineyard
Lower Waihopai, Marlborough
Known as 'The Strip Vineyard', after a unique narrow strip of aged, devigourating clay soils, located at the base of the Southern foothills of the lower Waihopai Valley.
This vineyard is 100% Pinot Noir, clones 6, 777 and 115 and was selected as one of Marlborough's best Pinot Noir sites. The clay based soils provide a vigour-moderating environment conducive to growing top quality Pinot Noir.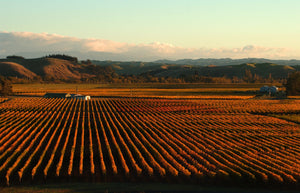 Plateau Vineyard
Gimblett Gravels, Hawkes Bay
Situated on Omahu Road within the world renowned Gimblett Gravels wine growing district, Hawke's Bay. The soils are vigour moderating free draining gravel and lie on a flat even site with a gradual slope. The site is very sheltered and warmer than the Marlborough region.
This vineyard site has ideal ripening conditions for achieving the structure and full aromatic profile for the red varietals Cabernet Sauvignon, Merlot, Syrah and Malbec as well as producing exceptional Viognier.